2016.12.08
Takeshi Sakamoto Exhibition December 3 – 11 Tables to Adore Original Pottery Pieces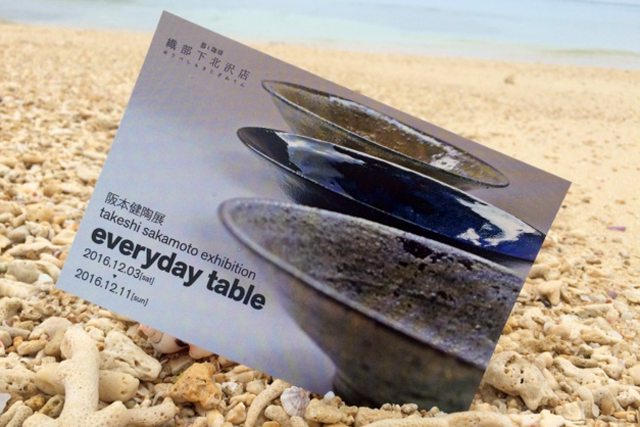 Sakamoto, who has a kiln in Osaka, and who doesn't make it out to Tokyo very often, has at long last held an exhibition in Tokyo.
A small bowl and shochu cup, a medium-sized dish, and a large sake cup.
I came upon his work at a pottery event in Yokohama several years back, then ran into him again just a few months later at a Kiyomizu pottery event in Kyoto. Since then, his pieces have become the tableware I most frequently use at home.
Though there are various definitions as to what constitutes a "fine piece", it is what your hand instinctually reaches for in your cabinet that essentially determines a "good piece". In other words, it constitutes two things: "an excellent piece for daily use" and "a piece that simply always seems to suit your needs".
Sakamoto creates such pieces, but he himself is interesting, as well. If he were to be described in one word, it would have to "good". Despite creating many rough, unrefined pieces, he has a relatively cheerful personality. He does in fact maintain a strict objective toward his pieces, and he probably has a stubborn side, as well, but in all respects he is a modest man. What's more, he is not the least bit profit-oriented, nor does he have any glittering ambition. That's what makes him "good".
"Why bother buying a piece? Purchasing one will have no influence on taste," is what I suppose most people think. That is what I used to think in any case. However, would we in fact feel that the rice balls eaten at a park in Hakone and the rice balls eaten in a dark, underground warehouse taste the same? In the same line, would there be no difference between a serving of white rice eaten from a scratched-up plastic plate from the cafeteria and a serving of white rice eaten from a simple, yet elegant ceramic bowl? I believe the difference lies in the sound aberrations we, as humans, can appreciate as animals that have gained affectivity.
across good, one of a kind crafted tableware. There is a reason for that. First of all, ceramic pieces do break. The possibility that pieces will break increases when dishes are used numerous time a day to serve numerous people. Furthermore, depending upon the type of food being served, the way it is presented will differ depending upon the type of dish used for serving it. For example, it would undoubtedly be awkward to serve eight people a course meal in which each course was served on two or three different kinds of dishes. A restaurant must inevitably have a large stock of dishes from the same set. That means that not only can a restaurant go about purchasing a large amount of expensive original pieces, there is also guarantee ceramic artists can produce the same product. Moreover, even if an artist did wish to recreate a piece, coloring and texture cannot always be reproduced, so a restaurant would not be able to purchase more.
In that respect, compared to restaurants, it is fine for us as individuals to have one or two good, original pieces. Try purchasing a piece that has been created by the sense and touch of an artist, bring it home, unwrap it, look at it, lightly rinse it with water and then use it. Suddenly, the banality of eating, and cheap food, appear beautiful and rich. It seems that compared to the rest of the world, Japan has an abundance of unique ceramic artists. That means that we are lucky enough to have a wealth of opportunities to discover that one piece that is perfect for us. It would be great if Japan, as a ceramics superpower, would permeate the world a little more. Please, add a piece to your life. A lovely piece.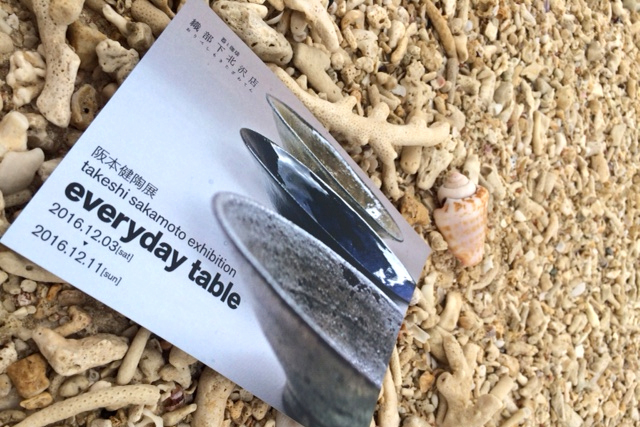 Takeshi Sakamoto Exhibition "everyday table" 2016.12.3 〜 2016.12.11
Ceramics and Coffee  Oribe Shimokitazawa Shop
2-2-3 Kitazawa 1st Fl., Kitazawa Setagaya-ku, Tokyo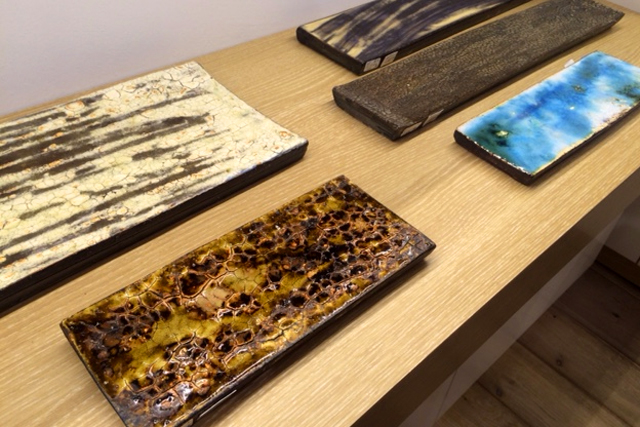 Btw – The plate up front has already been sold.
To me.