2016.12.31
Be a Neo backpacker.★ LCC Bullet Trip Essential Items ❶ Travel Bags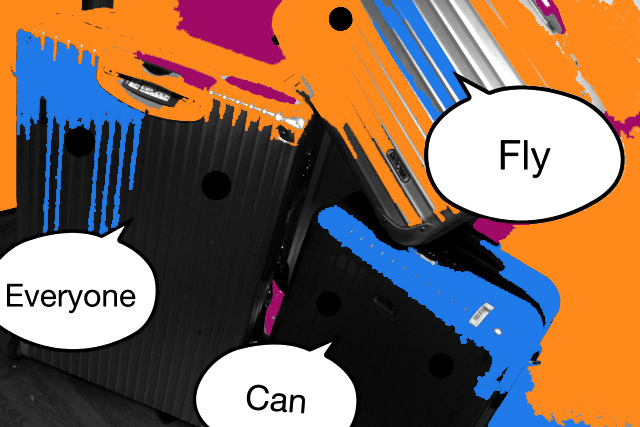 It probably was not that long ago that short vacations on a tight, jam-packed schedule began to be called "bullet trips". You will often find travel agencies offering tight-scheduled plans and posting them on their websites as "bullet trips", and will come across them on people's blogs and SNS, too.
"I'm busy. But I want to travel." Travel shows and magazines seduce you with images of southern isle beaches and recreational activities set against contrasts of blue and white. As you work at your desk, you impulsively click on the link of travel sites and are flooded with pictures of mysterious ruins and cities so captivating you can almost hear the hustle and bustle from your monitor.
"…OK – This Friday, I'm using my paid holidays and taking a trip. I'm switching out my regular commuter pass for a passport, and slipping through a boarding gate instead of train gate…." Instead of a packed commuter bus, you're boarding a winged Airbus. It is this kind of journey that is most suited to modern lifestyles and which is referred to as a "bullet trip".
Having the means to spend a few months admiring the Mediterranean Sea, or having the guts to leave a gaping hole in your work shift and risk being fired to take a trip to visit Machu Picchu, is not something that just anybody has. However, due to the recent lowering of hurdles for foreign travel for us common folk, bullet trips have suddenly become universally known.
In fact, I have met a number of people during my travels this year who, like me, have used connections made through work and taken advantage of their vacation time to repeatedly make bullet trips throughout out the year without the risk of losing their jobs. I do sometimes cross paths with students, but I get the feeling that there is a surprisingly large population of working adults that I refer to as "neo backpackers". What I mean by that is, people who use their vacations days, booking cheap flights and hotels online, to skillfully travel around the world. These are people who would like to take a break from their everyday world by staying in dorms and travelling like hippies, but who I would categorize separately from those commonly known as "backpackers".
I, too, over the past several years, have taken bullet trips to Asia (in exchange for cuts in my income) at a pace of about one per month. Over the course of many, many trips, I have developed a sense for communicating with people with whom I share no verbal language, so even when I visit a town or village for the first time having forgotten my Lonely Planet books and Wi-Fi, I have picked up a knack for getting by without trouble. This is what is probably called being "well-travelled".
A major change since becoming well-travelled has been my luggage. It is the distinction between what I need, and not so much. What is convenient, and what is not. With each trip are minor adjustments and selections of "I need this. I don't need this. This over that."
For example, back when I used to take my once-a-year vacations with my friends and girlfriends, I was an amateur traveler who was of the belief: "The bigger the suitcase, the better." Now it is the complete opposite. What one needs to take with them, of course, probably differs by sex and purpose. I, for one, need neither lipstick nor traveler's checks. Someone else might not need a single-lens reflex camera or a kindle. However, knowing that wet wipes and small change in the local currency reduces a great deal of risk is something that all well-traveled people come to learn through experience.
I get the feeling that the above might be of some benefit to those who are thinking, "I want to travel to Asia or go on a bullet trip!", so I think I'll begin introducing in segments, items I think are travel necessities.
Let me start by talking about the "travel bag". The keywords here are compact, lightweight and usability.
First, when travelling on a LCC, the most important factor is the size and weight of your luggage.
Another important thing to keep in mind when making multiple Poor man's "Fun and low-cost" trips during your lifetime is, naturally, to keep costs down. So, aside from those people that have the incomes of oil tycoons, owners of multiple buildings in Chiyoda-ku and Minato-ku, or famous soccer players (all of whom wouldn't fly on an LCC in the first place), you should strive to have no checked baggage. That is because the LCC carriers covering Asian cities now usually have surcharges for checked baggage. So, even if you were to find a cheap fare, the baggage fees tacked on it would end up making the flight cost as much as those offered by legacy carriers, sometimes even more.
I once took a trip from Narita to Busan at the unbelievable RT rate of just JPY1,980. It was so cheap, in fact, that I felt obligated to add reserve various services such as seat selection and meals, but had I not requested any of those extras, it would have been cheaper than taking a local train from Tokyo to Atami. However, if someone were to purchase this ticket and return with a large suitcase packed with Korean shochu, cosmetics, spices and other gifts for friends and family, there is a chance that a tour during the same period that included hotel and airfare might have been cheaper.
For a one to three night (well, in my case it'd be up to five nights) trip, it is best to limit yourself to a carry-on size bag.
Of course, that goes not only for LCCs, but for legacy carriers, as well. If all you have is a carry-on, you can save yourself the anguish of being on a tight schedule, standing in front of the baggage carousel irritably waiting for your suitcase that never seems to appear. Surprisingly, this simple preparation can actually make or break a trip. It is pretty common when travelling abroad, to arrive late at the airport due to the lack of dependable transportation facilities, and then to end up being down an hour or two waiting for the next available flight. Furthermore, it eliminates the trouble of having to drag any heavy luggage through huge airports, hotels or over bumpy roads. Yes, it is always a safe bet to keep your luggage small and light when departing for a trip.
I would also like to talk about my own personal travel bags. My RIMOWA suitcases shown at the top of today's blog have been put to good use by friends and family, but unfortunately have not been very useful for my Asia bullet trips and now exist more like treasures in the attic.
My prime piece of luggage for bullet trips is a convenient backpack with wheels. It is considered a carry-on, but the dimensions become questionable when I have overstuffed it. However, I have used it on dozens of trips in the past and I have never had it rejected when boarding.
On the other hand, LCCs have recently become stricter with weight restrictions. Just the other day, I was quite surprised when I had a compact mirror-lens camera hanging from my neck when I was told, "It must be treated as carry-on", and had it weighted together with my other stuff. I have found that these restrictions seem to vary by airline, airport and staff, even when on the same route, but when they are strictly regulated, they are strictly regulated. Sometimes the same carry-ons are weighed both at the check-in counter and at the boarding gate.
On one trip (I'm pretty sure it was at the Kuala Lumpur airport), I witnessed a group of Chinese women having their carry-on baggage, all of which were clearly overweight, weighed close to boarding time. A huge argument soon erupted between the women and the staff, and the women became noticeably more irritable as the end of boarding time approached. Finally giving up, the women began unpacking their bags on the floor of the departure lobby and throwing clothes, drinks and souvenirs into the trashcans (or near it when it was full). Angrily, they boarded the plane just before the gates were closed, leaving behind roughly a third of their belongings.
When preparing your carry-on, it goes without saying that if the weight restriction is 10kgs, you have to limit the content to less than 10kgs, but if something is heavy and small, like electronics or your wallet, you should put those in your pockets. In the winter, try to wear as much of your clothes as possible because you can never go wrong by keeping your luggage light.
The following is not a product ad. This is my bag. I also refer to as my travel companion.
HIDEO WAKAMATSU Hybrid Gear Trolley 3-Way Carry Case
Just the right size for a two to three-night domestic trip, too.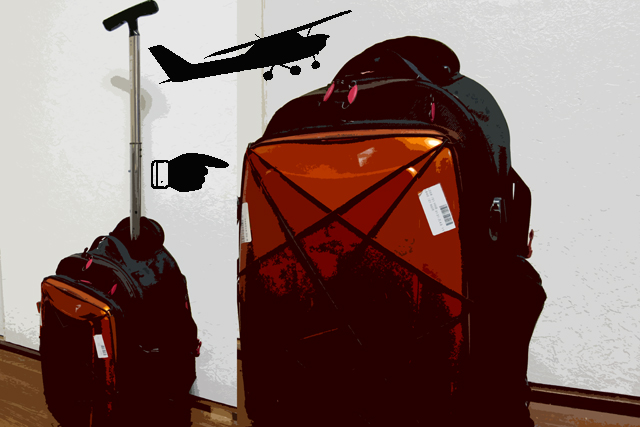 What makes this bag so great is:
① It doubles as a backpack
It functions as a regular backpack, which comes in handy when luggage cannot be rolled along gravel or uneven roads (which are pretty anarchic in Asia) or hilly towns with a lot of stairs. Unfortunately, there is a piece of durable material that runs straight across the bottom part of the backpack that hurts your waist when you carry it on your back for a long time. So, it might not suit the needs of those who intend to use it strictly as a backpack.
② It becomes a wheeled travel bag
The greatest advantage of this bag is that it turns into a travel case with wheels. The handle retracts to two lengths, and the tires roll smoothly. It stands solidly upright without support. One drawback, however, is that although you can place the shoulder straps into side pockets, when you're rolling over some slightly tough terrain they sometimes pop out and you end up running over them. If I could suggest a couple of improvements, it would be that a hook or Velcro be added so that the cords of the backpack can be easily held together, making the process of travel case → backpack → travel case flow more smoothly. Also, since it has recessed tires, it is better not to put anything in the bottom of the bag that is small or may become soiled or damaged. I've found that placing a thick bag of clothes in the bottom works pretty well as a cushion.
③ Sturdiness
Many of the expensive foreign brands with the reputation for being rugged end up causing travelers to wonder, "What?! Why would this part break?" That goes for may luxury watches and cars, as well, that are supposed to be overall sturdy and reliable, but end up being rather weak like the Achilles tendon. That is, of course, my personal opinion. In comparison, this bag has proven to be very durable. I have taken it on dozens of trips that I pride myself as being "heavy-duty rugged trips", and it has yet to fail me. In fact, it is so sturdy that if I were to find one fault, it would have to be merely that the retraction button sometimes sticks a tad. No doubt, this is a bag that will remain useful for years to come. As far as the functionality and sturdiness configured in even the small details, it truly embodies the greatness of "MADE IN JAPAN".
④ Affordable
This equipment – I think it is cheap considering its durability. It runs about JPY15,000 online. There are similar bags advertised, but most of the less-expensive ones are obviously cheap and many of those cheaper ones are constructed using poorly-made parts from China. As far as design, this bag may appeal more toward the younger set, but for those of you are OK with how it looks, I highly recommend you purchase one.
…And so I've waxed on about the advantages my bag of preference, but what has actually been the most useful for my Asia bullet trips was a magazine freebie.
Yes, I am talking about the free promo gifts that you see inserted in magazines. Judging from the high quality of the promos nowadays, you can clearly see the immense effort put forth by the publishing industry. In this case, the Mono Max promo gift – a duffel bag complete with the BEAMS brand logo.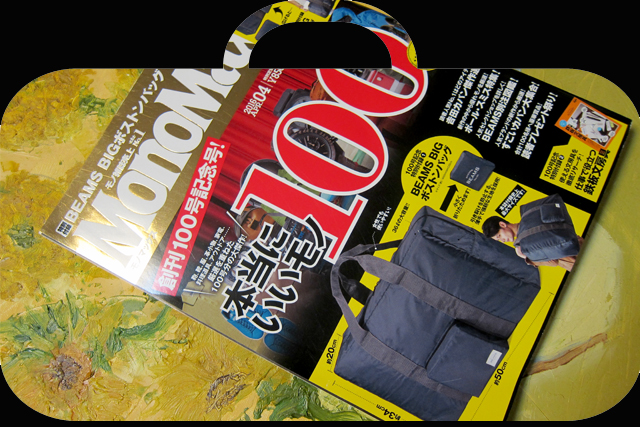 That will sound like complete nonsense to those who travel with Globetrotter brand bags. Up until last year, I too, would have never been enticed by a free promo gift. So then why did I end up taking one on a trip?
① Ultimate light-weight. Ultimate capacity.
No matter how light-weight suitcases have become, for modern-day travelers, they are still bulky, heavy and cumbersome. Yes, meandering through Asia with Globetrotter luggage has the same luxurious appeal of taking a long drive in a 60s classic car. However, in my pursuit for the best baggage to take on a two-day trip, in terms of pure convenience, I have come to the conclusion that there is nothing that out performs this bag. Plain and simple, it is light-weight. No joke, it is about as light as a smartphone.
② Ugly. Unlikely to be targeted.
Frankly, it's ugly. In a more complimentary light it may be regarded as basic. Whatever the case, when going basic to keep costs low, there is a limit to how cool you can look. I admit, even I would take a smaller-sized Rimowa if I were going to stay at the St. Regis or Raffles. However, rolling your Rimowa around a street corner in Asia is like verbally inviting every lecherous, broken Japanese speaking swindler to come over and talk to you. Turning the same street corner in a T-shirt and shorts, and carrying this bag, you'll blend in. When on a bullet trip intending to cover a lot in a limited amount of time, abandoning fashion is a good option if you want preempt having annoying hustlers waste your valuable time, and wish to avoid as many risks as possible.
③ It is compact, and leaves you with no regrets.
Finally, it is compact. Folded up it is about the size of an 8oz can of soda. You can use it to put other smaller bags in as you are shopping around town. Say you spur-of-the-moment purchase a smart-looking suitcase that you come across during your trip, or the one you have breaks and you are forced to buy a new one. You will inevitably end up having to drag along two suitcases because, though you had wanted to abandon one, you were at a loss as to where you could throw it away. In that sense, this bag is something you can throw out with the empty plastic bottles you got from the vending machine. The only quality that could be considered a fault is that the material is so thin that it is probably only a matter of time before it tears. However, I have already taken it with me on 7 or 8 domestic and foreign trips, and it has proven to be far more durable than I what I had expected when first purchasing it.
And there you have it. I may have used some extreme examples for touting the benefits of the second bag, but I believe that if you can view it from my perspective, there is no question that you will enjoy bullet trips and Asia trips that are surprisingly more efficient and easier on the body. Such travel bags will not only enhance the scope of trips, but have the added benefit of reducing undue risk.
Next time, I would like to introduce items and clothing mast-haves for travelling.